AFROLET BLOG SECTION
(The future of Africa's E-commerce)
In our blog section, we give you health tips, gadgets update, beauty tips & entertainment
What Is Semovita Made From – Secret Ingredients
It's a popular in Nigeria food and many other countries all over the world. We are talking about semovita which is commonly used for making pastes,,, and served with African soups. What is semovita made from? How is this popular Nigerian food made? Keep reading to find out the answers.
Many people confuse two words 'semovita' and 'semolina' as both of these can be used to make 'swallow' and eaten with soup. At the same time, semovita is similar to semolina, which is made from wheat (the type of wheat influences the final color).
Is semovita made from corn? Is it rich in vitamins and proteins? What is semovita production all about? Let's answer these questions and share the culinary tips on making an interesting meal.
Semovita ingredients
As we have already understood, semovita is also made from wheat also. Its colour is closer to white since it's made from wheat. The 100 gram serving of semovita has approximately 360 calories.
This popular Nigerian food is often taken with vegetable soup. So what are the products used for semovita production?
List of ingredients required for making semovita
Semovita (you can choose any brand)
Water
Wooden spoon
Let's see the production process using the ingredients mentioned above.
How to make semovita meal (swallow)
Many Nigerians love this delicious meal. Nowadays, there are so many brands in the market that there is no need to crush wheat with your hands to get semovita. You can always save your time by cooking with ready-to-use semolina or Golden Penny Semovita we have already mentioned.
There are many wonderful recipes that explain what you can make out of this product. All the meals are delicious and extremely popular in Nigeria. Once you have all the ingredients ready, let us being the cooking process.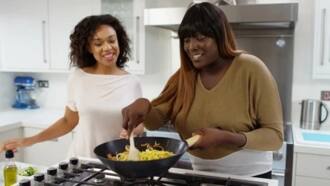 These Yoruba stew recipes will make your mouth water!
Add 500 ml of water to a handy pot and place it on the stove. Wait until it begins to boil.
Now add a cup of semovita into the cold water.
Stir the mixture with a wooden spoon.
Now pour the cold-mixture into the hot water and continue to stir and boil it for another 2 minutes.
Continue stirring until the consistency becomes tough and elastic without any lumps left. It should be smooth and pleasant-looking.
When semovita is prepared you can make your dinner delicious. Serve the meal on the plate. Eat it with soup and enjoy.
You see how simple the process is. It is a pleasure to cook semovita that is believed to offer many healthy nutrients and vitamins. It might not be the perfect solution for people who are losing weight or watching their weight, but it's a delicious traditional food in Nigeria that is quick and easy to cook at home.